MARINA FEDOROVA  "To Live in Paris"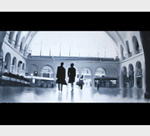 The happy word 'Paris' often goes together with two other – namely, 'desire' and 'to live'. There is a famous line by Vladimir Mayakovsky: I would like to live and die in Paris, if there hadn't been such city as Moscow, which we unconsciously tend to read as 'to live and live in Paris'.Living in Paris may be harsh but the power of desire is capable of redressing the harshness by lending bright and unforgettable forms to it – like those found by Ernst Juenger for his diary called Reflections: Paris, 7 May 1944 I get here quite willingly by the underground because it comes out into the open in many places.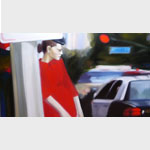 Pediments of whitish buildings that seem desolate make me feel gay; when I look at them, a tiny ancient soul of a lizard wakes up in me. …You ride along a gallery of concealed still life pictures, past tables with weeping glasses and sliced melons on them; a woman in a red bathrobe opening a new novel shows up in one window while in the other you see a naked spade-bearded man who is sitting comfortably in his armchair musing upon things sublime, in yet another window you catch a glimpse of a couple and they are feasting each other on an orange after love-making. Paris, 27 May 1944 Air alerts, air raids. From the roof of Raphael I twice saw powerful clouds of explosions ascending towards Saint-Germain while the squadrons were receding at high altitude. Bridges over the river were their targets. …During the second raid, at sunset, I held in my hand a glass of Burgundy with a strawberry floating in it. The city with its red towers and cupolas was enveloped in wonderful splendor as if it were a calyx swarmed all over by insects for the sake of mortal insemination. Paris, 16 July 1944 In the spacious studio, in front of the series of pond lilies started by Monet when he was 75. Here one can follow a creative rhythm of crystallization and decomposition drawing nearer to the blue Nothingness, to Rimbaud's azure foam…The eye opens to see creative daring and, next to it, the optic power of sublime decomposition and the torments he must have felt among the torrents of streaming light. The last picture is cut into strips by knife. Marina Fyodorova was brave enough to yield to the carelessness of youth and to take the eternal motif of living in Paris as a topic of her third solo show at D 137 gallery. Marina spent one usual summer in Paris but when she got back to St Petersburg she decided to tune her series of snap-pictures of street life, railway stations and underground passages to the visuals of Patrice Leconte's black-and-white The Girl on the Bridge. Shot in the last year of the 20th century, Leconte's melodrama shows Paris life in the flickering fantastic light of night bridges and circus arenas that get plunged in ghostly dreams right after the fiery colours die out. These dreams are always about miracles; they show how love and creation can save you from utter despair and let you immediately catch up with happiness and how you fail – for no apparent reason – to hold it firm and not to let it go. If it was happiness, if it showed its luster just for once, there must be its afterlight in the air to endow someone else with its glare – it may be a stranger or it may be you but in the state you have never been before. In this film, the protagonist is a knife thrower and, with each knife piercing its target, he swiftly approaches the point of his lot's realization: he acquires plastic perfection and meets his unassuaged soul. Paris itself that embraces the protagonist with the Seine vapours harmoniously redistributes the energies. The perfection achieved and the joys received are to be shared – they are laid available for spectators and partakers of creative experiments, they circulate among people, thus helping others (though not always and not everyone) to work out their dreams. Like a pocket mirror, Marina Fyodorova's pictures catch the reflections of the city milieu's irradiance; they seem to scan shopwindow reflections, glossy posters at the stations, light play on the car's windscreens. The city is fluctuating in the nets of bright light; it is waiting for the second when a new Paris lifestyle will show itself behind the screens of flashlights in the slash of a single ray.
E.Andreeva