ALEXANDER STRELETS "Holland Dream Trip" Photography, Super-8, Installation, Graphics, Objects,Verse. Performance, Sound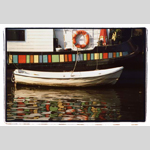 An artist, a photographer and slide-DJ, performer and tourist-psychonaut Alexander Strelets aka Alakrez presents a new project. Exhibition «H.D.T.» is a final report on three short photo-trips to Amsterdam and Leiden (Spring 2005 – Summer 2006). The exhibition includes color photos analogue-printed from the original slides, blackwhite photos (author's hand-made print), light-boxes with slides, dairy drawings, collages, and installations made from artifacts collected during the trips. D137 gallery is converted into a phsychoactive audio-visual area named «Holland Dream Trip». A plunge into dream and illusion. According to the idea of "Transference In Sleep" the author follows the principles of live art.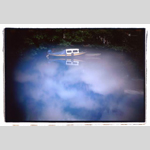 Preserving traditions of manual photography, making use of slides and Super-8 film reinforces the effect of presence in dream, provides a clear vision, guarantees the authenticity of the images and creates the feeling of hand-made beauty and magic. Transfer to a wonderland. Toy houses all around, old-fashioned bikes, funny little men in hats and wooden boots, colourful boats, swans silently drifting along the channels, seagulls, flowers. Millions of flowers. The purest sunshine an endless sea, sand, mussels, a small ship in the distance… The toy city as a return to childhood. First time author visited Holland in spring 2005 being invited by Molly Ackerman artist and curator of "Expansionist Art Empire Gallery" (EAE). Last autumn in Leiden he made his first solo exhibition in Holland. A premier performance of the short Super-8 film shot by the author in Amsterdam in June 2006 will take place at the opening of the exhibition. The film will be shown live with a hand-operated projector with special live audio-mix. The soundtrack "Holland Dream Trip" made special for this exhibition unifying different music streams and audio records from the trip. The audience will be teleported to the land of wonder and dream – the audiovisual quintessence of the personal experience of the traveler.