Olga Tobreluts. Tarquinius and Lucretia (video, media art).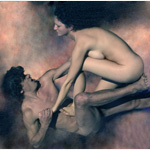 Booklet. Curator – Ekaterina Andreeva. The ancient Roman story of Tarquinius and Lucretia, as related by Olga Tobreluts, shows desire and violence rather than love and devotion, thus catching back with classical tradition that took interplay of these two forces for the fundamental principle of cosmos and the law of nature. This photographic series was created in 2005 as a reaction to Rubens' Tarquinius and Lucretia (1610-1611) then on a show at the Hermitage. Tobreluts transfers the action from Lucretia's dormitory to Crimean rocky landscape thus emphasizing the similarity between nature and the lascivious fight of man and woman.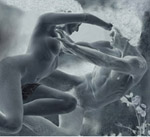 The ecstatic beauty of the picture is closer to Hellenistic images rather then brutal Roman aesthetics and therefore requires heavier sound, some transition from classic Greek to Roman sexuality, which is presented in the second part of the exhibition with a video project. Characters of the video installation are sleeping, for it is only in a somber and desperate dream that they can be with each other. A few coupled shadowy photographs that accompany the video show the deep deathly dread of a woman and an antique marble hermaphrodite statue, a whimsical creature that seems to symbolize the satisfaction of obsessive desire.
Ekaterina ANDREEVA