Art Moscow'2005, the International Art Fair. Moscow. Russia.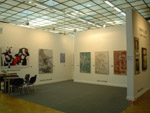 Catalogue. D137 Gallery presented: Georgy GURIANOV (draw on canvas), Yegor OSTROV (painting), Olga TOBRELUTS (print), SERGEYEV Sergey (painting, photo), Alexander STRELETS (interactive videoinstallation), Marina FEDOROVA (graphic). During the exhibition: at the 25th of May was presentetion of book "Timur Petrovich Novikov. Lecture" (D137 Gallery and New Academy of Fine Arts, 2003); at the 26th of May – presentetion of interactive videoinstallation "P.V.S." by "New Bazis Group".
Brian Eno visited the stand of D137 gallery at the international fair "Art Moscow 2005", which talked with Olga Osterberg, and noted that the stand of the gallery stands out compared to other galleries. He especially liked the work of George Guryanov, Sergey Sergeyev, and Yegor Ostrov.