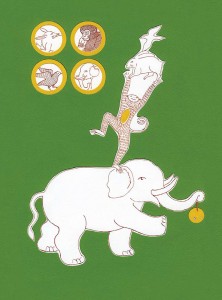 ALEXANDRA FEDOROVA'S EXHIBITION "FOUR FRIENDS"
D137 Art Club and traveler P.K.Kozlov's museum presents Alexandra Fedorova's exhibition "Four friends".
07.06.2013 — 20.07.2013
The exhibition contains illustrations to the same named book for children with eight stories.
The stories trace back to the Tibetian fairy-tales and Jatakas – famous old-indian writings describing previous births of Buddha now the part of the buddhist Pali Canon known as "Tipitaka". The project is supported by Buda Badmaev (Donyed Lama) who is the Head of Datsan Gunzechoinei in Saint-Petersburg. The illustrations are made as collages from colored paper and ink drawings.
Exhibition opening : 06.06.2013
 Address : Saint – Petersburg, 6 Smolnij prospekt, apt 32 (entrance from the Parter garden's fence)
D137 Art Club
www.d137.ru
phone: 981 687 60 51 
Traveler P.K.Kozlov's museum
www.kozlov-museum.ru
phone: (812) 710 03 50, (812) 577 12 43