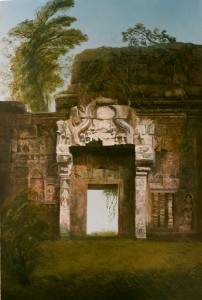 19.10.2012 – 11.11.2012

Meditation about virtue of solitude.
"Alexandra Fedorova has already shown to the St. Petersburg audience seriesof paintings devoted to architectural monuments and the ancient culture of the East in overall in the art galleries and in the spaces of scientific institutions. Current exhibition of a brave adventurer is the resultof her deepest interest in the culture of Buddhism: represented artworks were created in different periods of time and were based on different sources of inspiration. The artworks, that are on display in the Museum of Modern Art of SPSU (paintings on canvas and black-and-white photographs (bromine-silver print), depict ancient Buddhist monasteries,that were major educational centers of that time, and gain a very unique meaning in the space of the St.Petersburg State University.
A number of works is dedicated to the monastic universities of Ancient and Medieval India.Those represent two of the earliest cave monastery in Maharashtra: the Bhaja Caves and the KanheriCaves, as well as Nalanda University in Bihar and medieval monastery – university Ratnagiri inOrissa. Two paintings depict the ancient library at Angkor (Cambodia).
Three paintings form a unique series and depict sacred bronze figures from the collection ofAshmolean Museum (Oxford): Manjushri, the Bodhisattva of Wisdom, Avalokiteshvara, the Bodhisattva of Compassion and Kadam – a type of stupa, that was done by Master Atisa, who reintroducedpure Buddhism in Tibet.
The works by Alexandra Fedorova made with love, care and devoted attention show us a continuity of traditions and succession of universal memory outside the culture boundaries". Andrey Khlobystin.