PAX MUNDI /Together We Stand/ Exhibition 2022
Exhibition booklet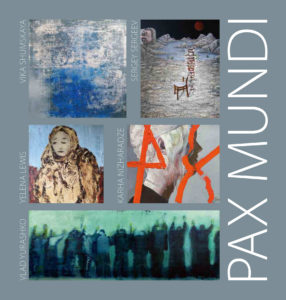 "Together We Stand" is both the title and underlining concept of an international exhibition uniting artists from different countries in this global time of crisis. It brings together the works of:
Vlad Yurashko and Vika Shumskaya, Ukrainian artists living in Slovakia;
Yelena Lewis, a Russian-British artist living in France;
Karha Nizharadze, a Georgian artist living in Switzerland;
Sergey Sergeev, a Russian artist living in France.
As the world is torn apart by unjust wars, breeding pain and hatred, it is the duty of every artist who stands for peace to help repair and mend our society by promoting compassion, common sense and forgiveness. Art has a particularly important role to play as a manifestation of human spirituality and development.
The multinational artists showcased in this exhibition stand together in rejection of tyranny and the political games designed to separate creative minds. They speak for peace, love and compassion. They use art to better comprehend and explain the current situation, to mirror and document both human pain and hope.